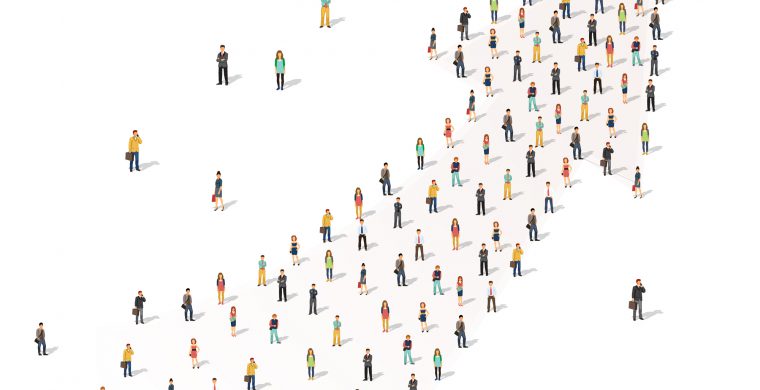 On The Topic of Life
Understanding one's place in the universe and seeking the meaning of one's existence is one of the oldest questions in the history of man.
A question everyone asks themselves at some point in their life. Why am I here? What's the purpose of my existence? What's the meaning of all of this?
Some of us get tired seeking the answers. They get pulled into the strong wave of the day-to-day life. The society pressuring individuals to follow the same path everyone else has followed. Get education. Get a job. Get married. Have kids. Pay your mortgage and so on. And endless list of "things to do" regardless of whether they carry a meaning to someone's life or not.
Get your life together! Get back on track! they'll say if you diverge one inch away from the "path".
And if you ask those who followed that "path" – why did you let go of your dreams and just get a job you don't really like? They'll say things like: "I don't know. That's what everyone else was doing." Or "I got to pay the bills somehow" and my personal favorite "My dreams can't pay for my mortgage".
Life is much more than our possessions, degrees and titles. Life is much more than a finite set of stages one has to go through before they are too old to realize they missed it all!
I have been thinking about this question longer than I could remember. And I've always thought that we as human beings carry a responsibility towards ourselves, each other and the universe we live in. Often times in that particular order.
For so many years, I've been saying that the survival of the humankind and its evolution is one of the highest purposes our species as human beings could have. But everything in this universe has a mysterious tri-nature that makes the aforementioned purpose incomplete!
I've realized that the survival and evolution are simply steps towards a higher purpose. A greater power that fuels all other purposes and all other paths!
When I sit down and talk to people, look in their eyes and hear their voices talking about their dreams, their issues and their lives I can only hear them asking for one simple thing. Fulfillment!
Fulfillment isn't the equivalent of happiness either. Fulfillment at it's essence is one's ability to live a deeply meaningful life, a life of purpose and satisfaction. Fulfillment is all about meaning, deep meaning. It's about one's vision, their dreams, and living in full alignment and flow with their values.
Fulfillment is the missing piece in the puzzle! It could draw to ones life as much sadness and anger as much as it could draw satisfaction and happiness. That's the tax one has to pay when the hold on to their values and principles.
If our very structure as human beings is nothing but a body, mind and soul. Then survival aims only toward ensuring our very physical existence survive through dangers than threaten our lives. But evolution is when we take our survival a step further, do things better, faster and more efficiently to ensure a higher order of survival takes place.
But a forever evolving structure is aimless without meaning. Without fulfillment. It's like upgrading your car but with no destination to go and no compass to guide you.
If I were to simplify this. I would say owning a car and a compass as "tools" or "means" is a part of one's mission of survival. But having a destination to go is evolutionary where the basic need isn't the only purpose anymore. Getting to that destination is what represents fulfilment.
A person who can't identify their purpose is subject to be pulled into the "traditional" purposes that we talked about above. They are subject to have someone else pull them into a direction where their lives will be wasted, and their hearts will never be satisfied. Their lives will never be fulfilled.
No one can tell you what your purpose is. Every man is born with a compass in their chest, that guides them towards what they want in this life and what their purpose is. Our society today denies that compass. They'll say follow your mind not your heart. But your heart is the one responsible for guiding you to what your mind can't yet comprehend!
If our hearts responsibility is to produce purposes. Then our mind's responsibility is to formulate these purposes into plans. Then our bodies carry these plans to achieve fulfillment.
You can't implant purposes in people's hearts. You may convince someone that their purpose is one thing or the other. But that all lives in the mind. Our minds has little to no control whatsoever over our hearts. And that's why you may see people telling you what their purpose is "supposed to be" fully convinced that it's the truth. And yet their hearts just don't feel it. Don't need it or follow it.
Some people will go through unimaginable troubles if their hearts are set on the purpose and their minds and bodies are aligned on the same path.
Some others are fighting an endless battle internally between their minds and hearts. Their hearts push them to follow one path, yet their minds disagree and disobey. Then everything suffers. And that's why you see people with depression, anxiety and suicidal tendencies. The ongoing internal wars have worn them out to the point of no return.
Where do purposes come from? How do our hearts make these purposes?
It's a two-way street between our bodies, minds and souls and back. We observe things, hear, feel and experience things in our world. Our hearts are like the detector that beeps as soon as it finds what fits it's purposes!
But our hearts detection requires a consultation from our minds to determine whether to keep going further where the "signal" is stronger or settle for what was already discovered.
Here's an example. Some of us may think their true purpose in life is marketing! They think: "I really love marketing things to people!" And they usually stop there. No further search needed; they think.
But in reality, what their hearts really desire is connection. Communication with other people. And communication could be leading to a higher goal and a greater purpose. Eventually, they may realize that their true purpose is to employ their passion and desire for communication with others is to heavily contribution to the survival of the humankind and it's evolution and fulfillment!
Some of us spend years and years thinking that their true purpose is just selling things to people. And amongst these things selling what doesn't contribute to the survival of humanity and it's evolution and fulfillment. That's when wake up calls bombard the minds and the hearts with misalignment. Misunderstanding and indication of great loss!
Evolution dictates a continuous search for a better, different and more innovative ways to achieve certain goals. Evolution dictates continuously finding a higher purpose and a deeper meaning. Being able to predict the next 10 years of one's life is the ultimate opposite of a continuously evolving life.
The very same goals the society may draw can have more meaning if they were consciously aligned with a meaningful purpose. Having children ultimately contributes to the survival of the humankind. Education ultimately opens our minds towards evolution. Our prayers and rituals ultimately enable our hearts to find fulfillment.
Having children, getting education and praying without understanding the meaning of it all is as bad as not doing any of it all. It's like having a car without power. It "looks" good but it's empty!
On the topic of finding one's purpose and meaning – everyone should carry the responsibility to find their own path. It can only be achieved through following one's heart, observation and education – continuous search and evolution to achieve true fulfillment.